RHRW Pre-Order Page Template
Your spot is secure if you order within:
Shortcode could not be rendered
Congratulations for gaining access to this page!
Again, my name is Brad Weinman. Over the last 21 years I've researched, reviewed and personally tested hundreds of online "work at home" business opportunities.
Between all the scammy get-rich-quick schemes, conflicting information, and self-proclaimed gurus selling bad advice, it can be really hard to separate all the B.S. from the real thing… especially if you don't know what to look for.It's easy to find yourself lost, overwhelmed and not even knowing where to begin.
Fortunately, we've already done all the hard, in-the-trenches detective work for you, so you don't have to waste your valuable time and money on garbage opportunities.
Your Next Step
Now that you've read Chapter 4 of our confidential home business report, "How to Receive A Steady Stream of Income – All Without Having to Recruit or Sell Anything to Anyone!", here's what else you're going to discover inside Chapters 5 thru 9:
A revolutionary business model that's easily 25 times more powerful than a typical network marketing opportunity, and why it'sthe best kept secret in the entire home business industry.
How it's possible to make money without ever recruiting a single person, holding meetings, or bugging family and friends.
How to own the lifetime profit-sharing rights to customers (not leads), and get paid a stream of hands-free income every week.
How to automatically profit from America's hottest-selling products that 90 million+ aging baby-boomers are currently spending over $166 billion on every year.
As you'll see, it's jam-packed with more home business 'secrets' and insights on creating an income-producing asset that can potentially pay you steady residual commissions well into your retirement years.You'll receive your digital copy today instantly after responding to this offer.
It's not available for sale anywhere online, but today you'll get it for FREE as a new member of M4 Insider.
M4 Insider (M4i) is a private "money club" that connects investors, entrepreneurs and everyday people to an ever-growing 'brain trust' network of independent financial pros who are experts at doing one thing really well and can prove their results.It's the only membership club of it's kind where you can get exclusive access to a wide variety of top-performing passive investment vehicles and cash-flow strategies, proven money-growing and money-saving ideas, little-known wealth-building resources, and insider contacts, all under one roof.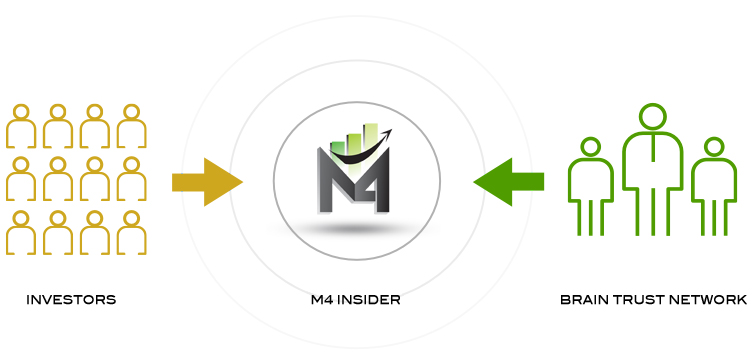 Here's A Small Taste of Some of Our Unique Gems You'll Get Instant Access To As A New Member
Profit Opportunity #1
How happy would you be if you were walking down the street tomorrow and found a $50 bill laying there on the ground right in front of you?Now, imagine stumbling across $20s, $50s or even $100 bills on the ground and stuffing them in your pocket over and over again 5 days a week.Well, that's exactly what Profit Opportunity #1 can do for you. It's a fully-automated money-growing system that treats money in the stock market just like money you'd find on the street.Rather than relying on risky 'buy and hold' strategies, the system turns the stock market into a virtual toll booth for you; it goes up, you get paid – it goes down, you get paid.It automatically turns itself on in the morning, picks the stocks, executes the trades, and then shuts itself off at the end of the day, 100% unattended. It's going to pull money off the table for you every single chance it gets, and regardless of which direction the market moves.The software has the patience of a tortoise to not only squeeze out some great compounded returns over time, but also keep your retirement funds out of the danger zone.And while no one can make any performance guarantees, some of our members have reported averaging returns of up to 8% per month.Best of all, you don't have to know anything about the stock market to be able to strap right in and put this one-of-a- kind perpetual money machine to work for you.
Profit Opportunity #2
​
Profit Opportunity #2 is an full-service trading boutique we've worked closely with for a number of years.
They specialize in helping our members diversify their portfolio and enjoy substantial passive returns in up, down and even sideways markets.
With automated trading services ranging from conservative to aggressive, this firm's select group of veteran traders are often able to achieve triple-digit, non-compounded annual returns (i.e. at least 100% per year).
Their results are third-party broker verified, tested, and monitored, and your funds are always held in your own name in a licensed brokerage account, so you maintain 100% control of your money at all times.
Here are some of their traders' recent verified results:Strategy #1: 72.2% average non-compounded annual returnStrategy #2: 83.4% average non-compounded annual returnStrategy #3: 133.3% average non-compounded annual returnStrategy #4: 49% average non-compounded annual return for over 15 yearsOne important distinction that separates their cream-of-the-crop traders from typical fund managers is that all of them trade their own money alongside their clients' capital.In other words, they've got their own skin in the game, which isn't something you see very often in the financial industry.Plus, this firm doesn't charge any monthly performance fees, so you get to keep 100% of your profits their traders generate for you on autopilot.Not only that, but some of their advisory services even qualify for self-directed retirement accounts, so you can supercharge a portion of your retirement portfolio.After following their results for over 11 years and getting to know the integrity of the people behind the company, we consider this firm to be an absolute goldmine for anyone looking for consistent and transparent above-average passive investment returns, combined with a custom-tailored plan to fit your individual needs and goals.
Profit Opportunity #3
Profit Opportunity #3 is a really special find because it can help anyone create a long-term strategy that will automatically pay you a stable worry-free income you can count on for decades, without the high risk.You can use this income to pay for all of your everyday living expenses, including your mortgage (or rent), groceries, utilities, healthcare, even luxury vacations.
The other thing is, this money machine will continue to pay you like clockwork regardless of how good or bad the economy is doing.
In fact, since the 2008-09 financial crisis, the man behind Profit Opportunity #3 has conservatively averaged more than 18% annually and was able to retire at age 42.
Profit Opportunity #4
There are no strings attached to this proven way to get up to $250,000 in interest-free business credit. The vendor behind Profit Opportunity #4 is a one-of-a-kind solutions provider we and our members have been continually using for more than 10 years now.It's a fantastic company, run by seasoned, ethical pros. Not only does this company not charge any back-end fees based on the cash credit lines they get you (unlike other companies), but their one-time flat fee is very fair, and they offer a 60-day money back guarantee. The best part is, you don't need to own a business to qualify, and the funds can be used for just about anything you wish.Some of our members use their newly acquired unsecured cash to pay off high-interest loans, start or expand their business, or invest in real estate and other passive investment opportunities listed in our secure members' area.Think about how much faster you could build wealth if you were starting with $50,000, $100,000, or even $250,000 of O.P.M. (Other People's Money).You could start receiving your first round of interest-free cash in as little as a week or two from now.
Profit Opportunity #5
There are plenty of companies out there offering debt elimination programs. They'll tell you that you have to sacrifice by working harder, cutting back on your spending, and living way below your means.Not only are their backwards strategies difficult to stick with, but they often take way too many years for you to reach your goals.The vendor behind Profit Opportunity #6, on the other hand, takes an entirely different approach to looking at your debt, your income, and how to be living your dream lifestyle in the shortest possible time.Their patented system can help you eliminate all your debt (including your mortgage) in as little as 3 – 5 years using the money you already make.In fact, you'll know the exact month and the year you'll achieve financial independence.How cool is that?Of course, just wiping out your debt isn't enough though, because you're still going to need income to live on.So their all-in-one solution also helps you create a predictable amount of passive income that grows exponentially, without changing your current lifestyle.That means you'll be able to maintain the same life you have today (or better), but still be able to do all the important things that make life worth living.Starting with as little as $25, you could be on your way to collecting monthly checks of anywhere from $450 to as much as $17,421, all with doing NO EXTRA WORK.
You won't find this level of research, or these unique money-growing ideas anywhere else.
Access To The M4 Insider Members-Only Website
When you log in to our members' area for the first time, you'll get access to our Journal archives with over five years worth of information on wealth-acceleration, cash-flow generation, passive-income streams, managed trading accounts, insider investing, credit funding and a LOT more.
This includes…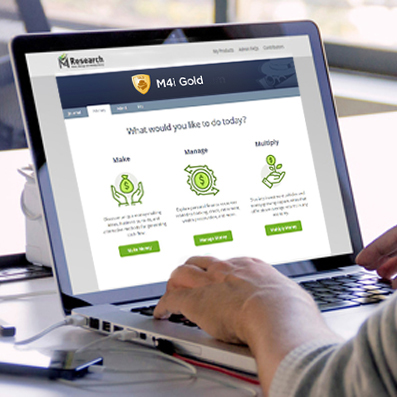 Active & Passive Investment Vehicles Normally Reserved For The 'Already Wealthy.' You're going to get access to our exclusive vetted list of the world's best active and passive investment vehicles and done-for-you trading services. Over 30+ vendors. All of them have verified track records, with some producing an average ROI of 3%–10%+ per month on 100% auto-pilot.
Unique Cash-Flow Opportunities. If you're in need of some extra cash, or simply want to create additional streams of income working from home, we've got you covered.No matter how big or small your budget is, you'll find plenty of unique money-making ideas and pre-screened business opportunities for generating active cash-flow and residual income.
Personal Finance & Wealth-Protection Secrets. Our freedoms are constantly under attack in the way of higher taxes, compromised personal privacy, rigged credit systems, currency controls, and rampant rob-Peter-to-pay-Paul governmental policies.As sovereign living advocates, we'll give you access to little-known strategies, resources, and contacts related to: Improving credit, debt elimination, international living, online privacy, tax minimization, asset protection, obtaining 0% interest cash credit, and more much.
Journal Updates & Archives. Instead of reading a bunch of general theory or fluff, you'll get no-holds-barred commentary and real world, here's-what-works and here's-how-to-profit information —All killer and NO filler! We're constantly in the mix of research and testing of new opportunities.As an M4 Insider, we'll update you on what's working and what's not; where to consider making adjustments; and how to best utilize the new information we're constantly adding and archiving inside the members' area.
Q&A, Guides & Resources. Beyond Money and the Mind there's the rest… what we just call 'Etc' for ease.In this section, we house our Member Mailbag, where you can ask questions about something you've found inside your M4i membership.There's very likely already a similar question asked by another member that we've answered and archived — if not, ask away.And our Guides page is ever-popular. From extensive reviews of our favorite online brokers to curated links that will help you to see the world on any budget, we're always on the lookout for new insider resources that will enhance your monetary lifestyle.
But that's not all you'll receive by taking action today. We're also going to throw in these free bonus reports…
Bonus Report #1
​In The Black – In this report, you'll learn a proven strategy for paying off all your debt (including your mortgage if you have one) in as little as 25% of the time it would normally take you. Plus, we'll reveal our favorite source to safely and legally eliminate 50% (or more) of your credit card debt ― one of our members used this vendor to wipe out $56k of credit card debt for only $16k, saving them $40k.
Normally Sold for $27 – Yours FREE Today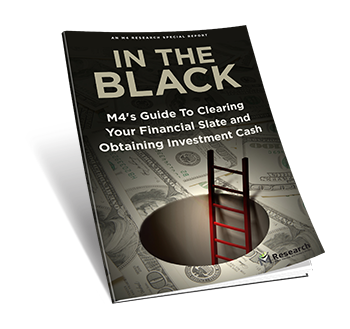 Bonus Report #2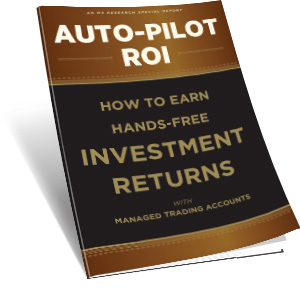 Auto-Pilot ROI – This in-depth report is all about investing in Managed Trading Accounts (MTAs) and explains how you can passively participate in the forex and futures markets without having to do any trading yourself.These underground investments have been used by universities and pension funds for over two decades, yet most people don't know they exist. This report exposes the secret of why Wall Street doesn't want you to know about them.
Sold Separately for $19 – Yours FREE Today
Bonus Report #3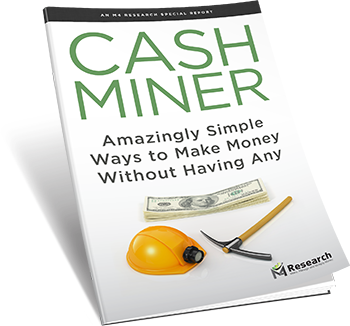 Cash Miner – This report debunks the myth that "it takes money to make money" and provides you with a curated list of dozens of the best online tools and services you can use to quickly generate cash whenever the need arises.Whether you're strapped for cash, or just want to make some extra bucks to put towards saving, investing, or leisure spending, as long as you've got a little bit of time and creativity, we'll show you how you can pull in some extra
dough in a few days.Sold Separately for $19 – Yours FREE Today
Here's the best part…You can keep these three reports no matter what. All we ask is that you TRY our M4 Insider membership for the next 60 days.
Claim Your Free Reports AndSave 20% on M4 Insider Today
Usually, it would cost you $150 for a one year subscription to M4 Insider, and that's an exceptional deal.
However, right now you can get one year of our research for just $120.
That's a 20% discount, which works out to only 33 cents per day… a small investment that will open up a whole new world of unique money-making and money-saving opportunities for you.
And that discounted rate is locked in for life.However, we only keep these kind of special offers open on a limited basis, so be sure to claim your spot today…
Join Today And Risk NOTHING With Our 60-Day '

Great Research

' Policy: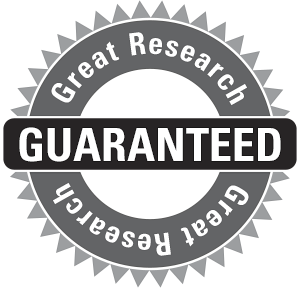 Take M4 Insider for a risk-free spin for 60 days… explore our members' area and read all of our research.And, if for some rare reason, at the end of that two-month period you find it's just not working for you — that it's not every bit as good as our members say it is — simply let us know and we'll refund everything you've paid (see our member agreement on the checkout page for details).I don't know how much more fair we can make this, so join the club and lock in a very special rate today.
Order Now
Privacy | Disclaimer | Support
Copyright {tcb_current_year} M4 Research, LLC